Dear OKC (OKX Chain) users, if you're having trouble managing your seed phrases, you may want to start using a cold wallet that replaces the seed phrase with a rescue device. What's even better about this wallet is that it will support OKX Chain by Sep. 30!
UKISS Hugware® is a revolutionary hardware wallet that synchronises your private key in a backup device so that you will always have a support key to reset passwords or restore access to your crypto assets. We're excited to make Hugware compatible with OKC, opening it up to the ecosystem's over two million addresses. 
The OKX Chain is an EVM-compatible L1 built on Cosmos with a focus on true interoperability (IBC) and maximised performance. At high scalability, developers can build and scale with low gas fees. The OKC ecosystem and infrastructure, including the all-in-one multi-chain Web3 interface, enables a seamless experience for developers and users.
Here's how you can secure $OKT offline with Hugware:
Connect your Authentication Key and add OKC under UKISS Wallet with the following steps:
            + Add Wallet → + Add Asset → Select OKT/OKC 
The OKC (OKX Chain) integration is one of several updates we're making to UKISS Hugware and UKISS Hub from Sep. 30. On the same date, we are also launching U-Archive, a Hugware-supported file encryption software, as well as KISS Tokens, the virtual currency of the UKISS Decentralised Security Ecosystem.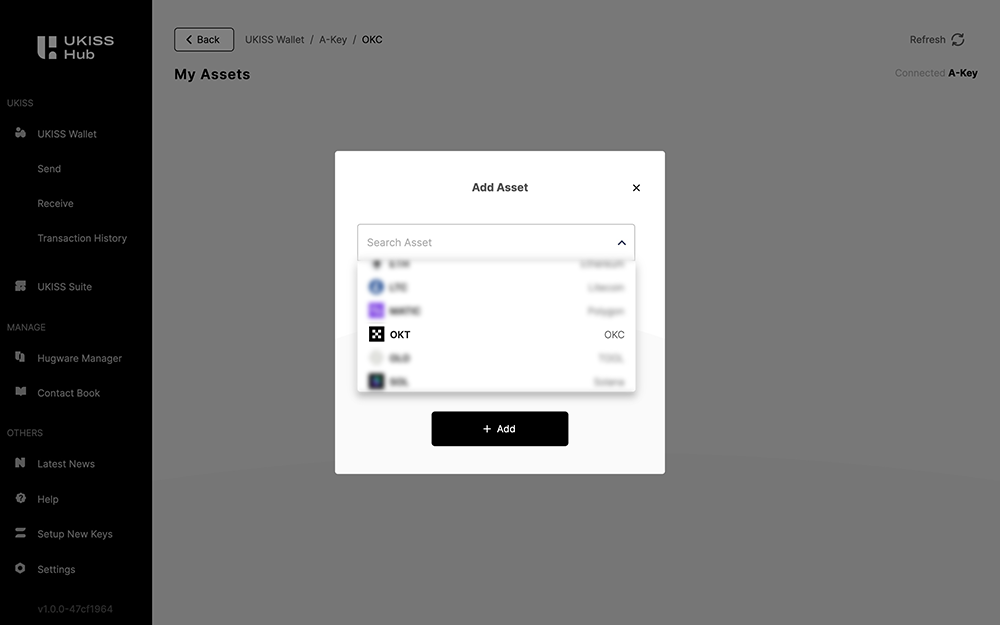 About Hugware
Hugware is a dual-device cold wallet that lets crypto users sign transactions with the Authentication Key and recover access to their assets with the Rescue Key. Its ability to synchronise the private key to the Rescue Key backup device replaces the need to input seed phrases, thereby protecting users from copy errors, phishing and theft. 
Additionally, the device that secures crypto assets can also keep files safe. Hugware can encrypt private and personal notes, documents, and photos when used with U-Archive (launching Sep. 30). 
Who is OKX? 
OKX is one of the leading crypto exchanges by trading volume, serving millions of users in over 100 countries. The platform leverages blockchain technology to provide everything users need for wise trading and investments, offering hundreds of tokens and trading pairs, and providing spot, margin, futures, options, perpetual swaps trading, DeFi, lending, and mining services.