Hugware now comes with an upgraded chip called the H2. The H2 chip is built with additional support for the ED25519 elliptic curve algorithm used by popular NFT-friendly blockchains such as Solana and Cardano. By upgrading to H2, users will be able to secure more cryptocurrencies, and, soon, NFTs, with the same high-grade security.
We will add at least six ED25519-compatible networks to UKISS Hub Version 1.2 (launching Feb), bringing users access to a total of 24 networks. Those who have purchased and received their Hugware H2 before the launch of UKISS Hub Version 1.2 can still initialise or synchronise them with their Hugware H1 keys (first-generation Hugware) on UKISS Hub Version 1.1.3.
List of ED25519 blockchains coming to UKISS Hub
Solana
Cardano
Polkadot
Algorand
Stellar
Aptos
Difference between H1 and H2
Hugware H2 continues to support blockchains that use the Secp256k1 cryptographic algorithm such as Bitcoin and Ethereum.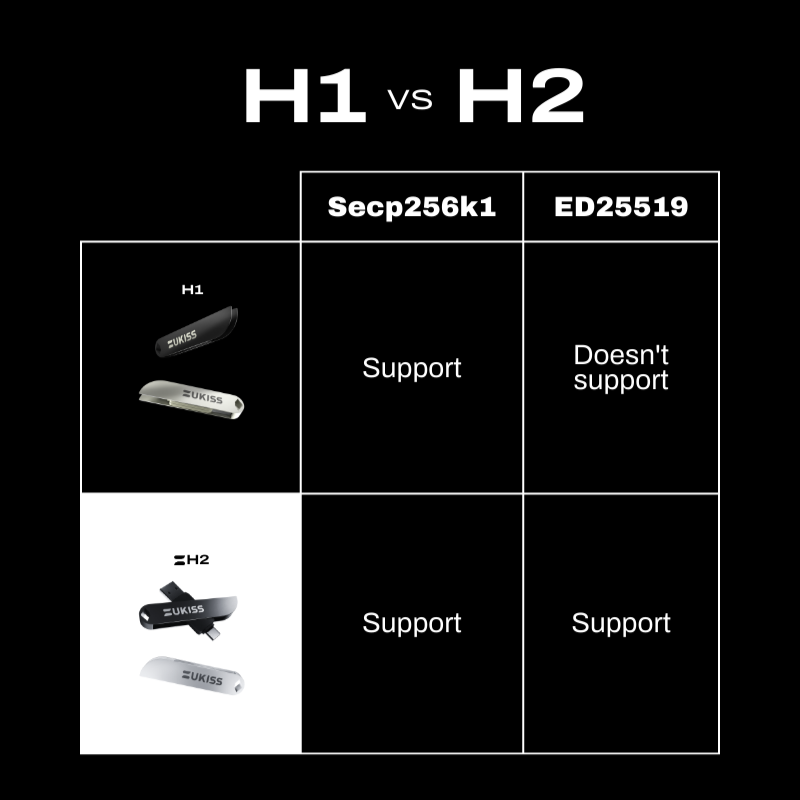 Can I synchronise the H2 keys with my existing Hugware keys? 
Yes, you may synchronise your H2 keys with your existing Hugware keys through UKISS Hub's Recover Key function. Do not use the Set Up New Keys function, as this will generate a new seed in your H2 keys and prevent you from accessing existing accounts. For instructions on how to synchronise your H1 and H2 keys correctly, refer to the instructions in the diagram below:
Can I still use my existing Hugware if I do not upgrade to H2?
Yes, you may continue to use your existing Hugware and manage your assets as usual, even on UKISS Hub Version 1.2. However, you will not be able to add assets across ED25519-compatible blockchains as these are not supported by the chip in your first set of Hugware. To access ED25519 blockchains, you must upgrade to H2.
What do I do with my existing Hugware Keys after upgrading to H2?
Your existing Keys now act as additional backups of your Master Seed which you may keep at different safe places. In case of loss or forgotten PIN, you may use any backups to recover a new Key or reset the PIN.