Need help navigating the world of NFTs? You've come to the right place. Non-fungible tokens, or NFTs, are digital assets stored on blockchain. They cannot be exchanged, replaced, or removed.
There are many types of NFTs on the internet but the ones taking the digital world by storm right now are NFTs that represent profile pictures (PFP) or collectable art. The most popular NFT art collections are most notably CryptoPunks, created by the Larva Labs studio, and Bored Ape Yacht Club, created by Yuga Labs, just to name a few. 
Those new to the NFT space may see the above collections as nothing more than a series of similar-looking pixel art or colourful and bored-looking monkeys. But when you dive deeper, there are many fascinating factors that make each NFT valuable. 
NFTs can become valuable based on a number of factors. These include their supply and demand, the rarity of an NFT's traits, and the community an NFT collection attracts. If you're looking to earn passive income with NFTs, this is a very risky space to spend your money. Unless you're OK with not getting your money back, that is.
Ready to learn more about NFTs? Let's start.
RARITY
If NFTs are searchable on the internet, where's the rarity in that? Well, that's because the value of an NFT art is more comparable to that of sports trading cards than fine art. 
There are multiple ways to judge the rarity of an NFT. Take the Bored Ape Yacht Club, for example. While all 10,000 NFTs from the collection feature an ape, each ape has a unique look, trait, and quality.
The Bored Ape (#7495) shown below is considered the rarest by Rarity.tools, a website dedicated to ranking and giving rarity scores to generative art. It scored 364.42 in rarity, with its most unique traits being the aquamarine background, its cyborg eye, and the cross earring. 
Rare NFTs are considered more valuable and are usually pricier than their counterparts. But that's not always the case. At the end of the day, it is up to the owner to decide how much to sell the NFT. The Bored Ape #5673 is the most expensive on the OpenSea NFT marketplace as of Apr. 14, but it only scored 109.59 in rarity. That's lower than the Irish hat ape above.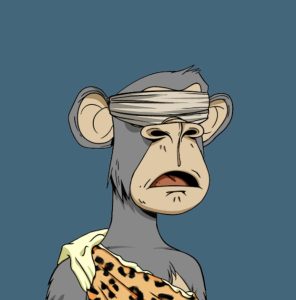 Supply and Demand
Supply and demand matter to the value of an NFT. Inspired by the CryptoPunks collection, many NFT projects seem to follow its lead by producing up to 10,000 different artwork per collection. Ideally, NFT projects aim to achieve 100% ownership of their NFTs because this would imply that there is very high demand. But that's not always the case. There are only 3,400 owners for CryptoPunks, which is considered to be one of the most valuable in the NFT space.
Does that mean you should go for smaller collections? That's up to you. Bigger collections tend to draw in a bigger community that can help to raise awareness of the NFTs. As much as some of us hate to admit it, NFTs that attract bigger hype and attention tend to have greater value. That is why it is common to see celebrities like American rapper Snoop Dogg endorsing NFTs. 
Community
Other than the artistic appeal of NFT art, at the heart of what's most attractive about NFTs is the sense of community that it creates. As technology advances, the human need to belong to a tribe remains and NFTs have been able to foster that. NFTs with a large community also tend to have greater value. The World of Women NFT project, for example, has nearly 200,000 followers on Twitter and hundreds of members online on its Discord channel at any time. The woman-focused NFT project has 10,000 art in its collection, half of which have owners. 
Looking to shop for NFTs? Be sure to practice good security hygiene. Use two-factor authentication where possible, secure your crypto with a hardware wallet, and monitor your NFT portfolio for any suspicious activities. 
UKISS Technology's Hugware® is set to become the most secure and easy-to-use hardware wallet out there. It comes with a rescue device that backs up your wallet's master seed, saving you the trouble of jotting down recovery phrases. Be the first to use it by joining our mailing list, today.